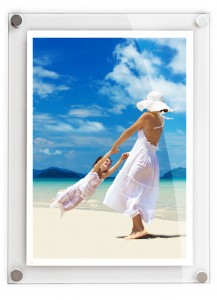 Believe it or not, acrylic photo frames have become quite popular over the years. They have a wide variety of uses, and although they are less artistic in their design than traditional picture frames, they still have their place in our modern world. Why would someone purchase these photo frames? Well, there are quite a few clever uses for these frames that we will quickly point out below.
1. They Make Great Gifts
Undoubtedly, one of the hardest things to do is gift someone a photo of yourself without having to spend a fortune on a frame. Pictures mounted in Acrylic frames can be an appropriate gift (especially for weddings) and they warm the heart without breaking the bank.
2. They Provide More Focus On The Picture

The problem with most frames is that the design is so intricate the photo itself doesn't get all the glory. Too much focus on the frame takes away from the picture. This is easily cured by one of these modern picture frames as they don't actually have a bordered surround as such, but rather two pieces of plexiglass that allow all of those moments to come out front and center.
3. They Have A Modern Appeal
People that have a modern styled home will find that these clear, contemporary products have that unique appeal to look modern and classy at the same time. They work well in a wide variety of settings, and you don't have to worry about matching the frame to the rest of your home. It basically eliminates the need to second guess your design.
4. Great For Office Environments
If you want to add a personal touch to your office without necessarily calling too much attention to your photos, acrylic photo frames are a great way to do that. They perform the job well of keeping your images safe and allowing them to be understated in your working environment. Not to mention, they stand up to wear quite well and can take a beating in the toughest of environments.
5. No Glass
If you have small children around the home, broken glass can be a real danger in the home. Fortunately, although acrylic is very glass like it isn't actually glass and it is pretty hard to break. You no longer have to worry about your little one accidentally cutting their hands and you certainly don't have to worry about keeping the photograph away from them.
6. Less Space
One of the major benefits that people will find when purchasing acrylic frames is that they take up less space than traditional ones! Since there is no gaudy design to get in the way and most of them sit well on a tabletop, you can put art on the walls without feeling that your home is too cluttered. In fact, these frames can help de-clutter your wall and give you back some of that much missed space.
As you can see, there are numerous benefits as to why you should purchase these beautiful, modern frames. Meanwhile, with traditional frames being a bit artsy nowadays days, these frames save space, help you avoid glass and just look very modern and sleek in any environment. Be sure to check out the complete range of acrylic photo wall frames HERE
Further Resources:
If you are interested in finding out more about interior design and what makes it work, this is a good place to start Interior Design in Wikipedia
Our Store: https://getacrylicphotoframes.co.uk
Comments are closed