OUR PRICE PROMISE GUARANTEE: We Won't Be Beaten!
We always offer the best value, show us a cheaper advertised price for a like-for-like product & we'll beat it!
This Month Only: 50% off
CERTIFICATE FRAMES!

That's half price!



Quick View
A4 Certificate Wall Frame Supplied direct from the UK Manufacturer ensuring the best quality & lowest price! Get next day delivery on this superb product.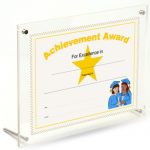 Quick View
Acrylic A4 Desktop Certificate Frames These superb and stylish Acrylic A4 Desktop Certificate Frames are perfect for protecting & displaying your valuable and hard won certificates. Made from acrylic they are held together by four corner posts, two of which extend behind the frame to double up as stands for either an upright or landscape positioned display. They hold a sandwich of two acrylic panels together to trap a mini poster, graphic, photo or certificate.This allows the image to be easily changed. The sizes listed for are for the actual print size. In addition to this, each frame has a clear border that is appropriate to the size of frame for best effect Frame Specifications for the A4 Desktop  Desktop Frame: Image size:        A4 – 297mm x 210mm  For Print Size:     A4 – 210 mm x 297 mm (8 1/4″ x 11 6/8″) Front Panel:       Clear Acrylic Back Panel:       Clear Acrylic Prints and Internal mounts not included The four corner posts (including 2 longer ones to act as stands) are included for joining the front and back panels together. Availability: Stock Item Please note: images shown are for display purposes only and do not represent...