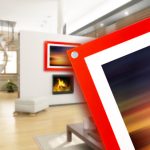 Artwork Or Photos – Use Acrylic Framing
Many people these days take up the option of acrylic framing when it comes to display precious artworks or photos. In particular acrylic photo frames are developing in popularity especially when compared to metal, wood or glass frames.
Acrylic Framing = More Choice!
When making acrylic framing as your choice you will discover a world of desirable options! For a start these acrylic photo frames do not generally have built up, fancy borders offering a hard surround as you will find with wood and metal frames. As a result of this, attention is drawn directly to your image instead of the frame. The images that you would like to display will come in many different sizes, so whether large or small you will be able to frame them successfully with acrylic photo frames. Not only that, because of the qualities of acrylic, you will not be sacrificing the durability or longevity of the photo frames.
This inherent flexibility of design that comes with acrylic framing enables you to have multiple pictures mounted within the frames – this is whether you art looking to produce a collage type of effect or even to produce a staff photo board.
Acrylic Framing = Beauty, Style & Elegance
Due to their natural innate qualities of elegance and style, acrylic photo frames look great in many locations. People will very often put them in their homes, offices, hospitals or schools and universities – In fact they look great in most modern environments. When asked, many people describe acrylic photo frames a big square thick block – however a little bit of research reveals a very different truth about acrylic framing. They come in many styles. For example, for offices and most business environments, the acrylic photo frames that have the corner posts lifting the frames clear of the wall, where the images are set with a clear border make the posters, sales messages or inspirational and motivational art look absolutely great.
Alternatively choosing free standing desktop frames for certificates or more personal photos can be a great option. These frames come in two forms generally. One is where the acrylic photo frame is made of two thick acrylic blocks that are held together by small embedded magnets, then these two blocks sandwich the flush fitting photos. The second type that you find in the realms of acrylic framing are thinner acrylic panels held together with pins that double up as a stand to hold the frame upright. Whichever of these frame types and sizes suit your needs, acrylic framing is now easier than ever.
In terms of Acrylic Framing needs & being a superb value item, acrylic photo frames rank very highly. The main key benefits include the fact that they are highly durable and long lasting, the are well designed so that they can be easily moved, they can have the images easily replaced and can be rehung. In fact, any qualities that you would normally want a photo frame to have, these acrylic framing masterpieces do! They also cross a number of different prices ranges. additionally they are easy to find, easy to frame, come in an immense array of sizes and are very widely appreciated for there overall looks and the way that they naturally compliment the images that they display.
To conclude, contemporary acrylic photo frames are a great choice for any photo framing needs. These acrylic framing gems fit anywhere, particularly in the modern home or office environments. They will stand up to plenty of use and will last you for many years. From any good online photo frame supplier you will find ranges of styles, sizes and colours all readily available for next day delivery. Using them will empower you to frame any poster, document, print, picture or piece of unique artwork. For these reasons we put forward the use of acrylic photo frames should be foremost in your mind when considering acrylic framing needs!
Author: Steve Hogg