See the full range of Certificate Frames
Certificate Frames: quality And Value
If you're thinking of framing an award or certificate, the most up to date styles of acrylic certificate frames come in A4 and A5 to fit perfectly. But if your document is not of a standard size, never fear, you can have the acrylic certificate frames custom made to fit.
There are other choices too. You could keep it simple with a plain border, or decide upon a decorative border to match your room. Frames also come with a choice of corner fastenings and you even have the option of a magnetic certificate frame for your award. Even better news is that these certificate frames are very reasonably priced, which means that you can choose between desktop and wall mounted frames, based on your needs not the price!
Custom Certificate Frames
If you have decided upon a custom made frame, acrylic certificate frames can be engraved, have vinyl lettering, or even silk screening. Many companies choose to use these services, as they are perfect for corporate awards, anniversaries or competitions.
The finishes that you can have with an acrylic frame can range from matte, pearl, through to glossy and even translucent. Which when used in conjunction with the relevant colour, can match any logo or enviroment.
Designed To Show Off Your Award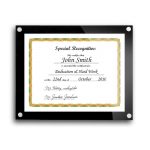 One of the best reasons for choosing acrylic certificate frames is that the styling of them is designed to accentuate whatever is being framed. You want your achievement to stand out, rather than letting an over ornate frame overwhelm the certificate. The acrylic frames are also a stylish, contemporary addition to your home or office,which is easy to maintain (only needing a wipe with a dry cloth) and not easily broken like glass.
Cutting Edge Acrylic Certificate Frames
Winning an award, earning your Degree, Doctorship, Masters, or even Professorship, is a building, growing event, looking forward to the future. What could be more fitting than to choose a cutting edge acrylic frame. Something sophisticated and high performance says a lot about you, your future and your sense of style. Browse here to choose the Certificate Frames to suit you best.
Author: Steve Hogg
For more information on Custom Orders & for General Enquiries please call Freephone 0800 612 3544 or visit the store:
[google_authorship_badge]
Comments are closed