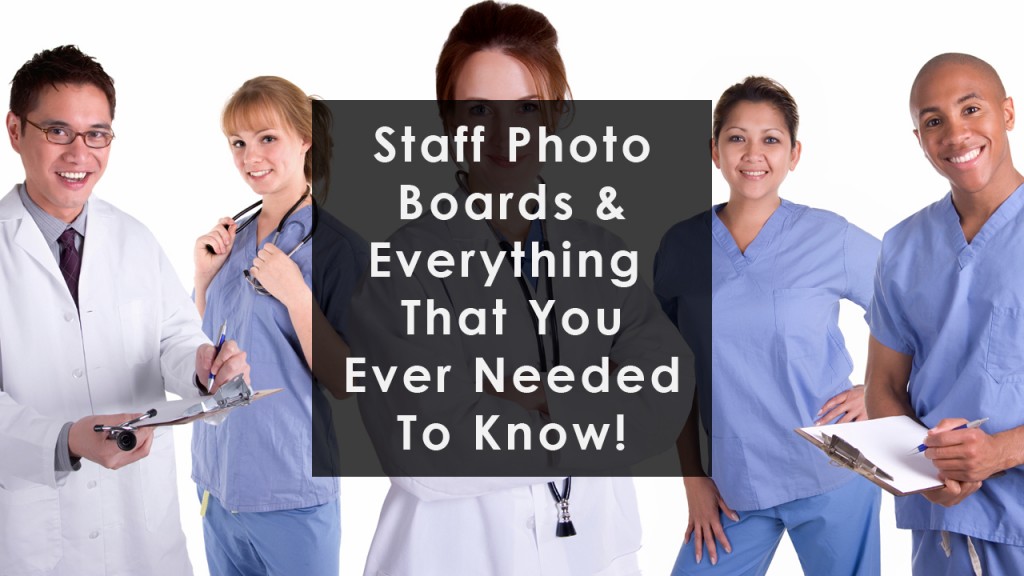 Get Rid Of You Old Staff Photo Board!
Is it time to switch out the antiquated dark and musty personnel photos and update with a new modern twist? Have those old photos been there so long they are faded and there is a dust outline bordering the frames? Does your clientele think they entered a museum by mistake? What is the best way to use the space of the reception area to greet incoming clients? A staff photo board is a beneficial way to portray a welcoming first impression and show off your best assets, your employees.
The most professional and manageable way to hang your personnel photos are with the use of an acrylic Staff Photo Board utilizing photo pockets or photo slots. These boards are easily mounted to the wall and are available in various sizes and colours to become a personalized fit for your individual needs. Depending on the size of your organization, you can order a Staff Photo Board to hold just the heads of departments or your entire employee roll.
Plan Out Your Staff Photo Board First
The initial planning and displaying of your staff photo board will be the biggest time investment you will undertake on this project. How many employees will be pictured? All of them or just department heads? Is the entrance only going to be utilized? Alternatively, do you have departments and want the staff photo board displayed as an entrance to each? Once all the details are worked out, the supplies such as acrylic boards, photo pockets or photo slots.
Once mounted, it is as simple as trading or updating photos to keep up with your ever-changing personnel. Promotions, retirements, and new employees are all easy to display as soon as you have a new photo to drop in the slot. An acrylic staff photo board can be as simple or as detailed as you wish to make it. Custom orders are available through a few select acrylic frame suppliers. Your company name can be displayed with the photos as well as a description or title for each photo. This can be detailed to fit the formality of your business.
You Can Have Any Colour Staff Photo Board – Even Black!
A variety of colours can be ordered for your acrylic staff photo boards to set the opening tone of your business. A formal black or white for a needed professional touch. On the other hand, a casual red, blue, or green can match your updated company logo taking your business in a new direction. There is also a variety of sizes of photo pockets or slots available to match the size of your photo needs. This will allow you to fit the numbers of photos you need on the board.
Is Your Business Ready For A Stylish New Staff Photo Board – Even Black!
If your business is ready for an inexpensive mini facelift to present a new look to their customers this may be just what is needed. A staff photo board is an easy and consumer-friendly way to present your staff in a favourable light. It has often been noted a first impression is the lasting one. Show your public the inviting atmosphere your company has and they will most likely be more confident to invest their time and money with you. To see the range and perhaps choose a Staff Photo Board, Click Here


[pinit float="right"]
Author: Steve Hogg
Button
[box type="info"] For more information on Custom Orders & for General Enquiries please call Freephone 0800 612 3544 or visit the store: Acrylic photo frames & Acrylic Printing[/box]
[google_authorship_badge]