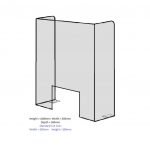 Quick View
1000mm High by 500mm Wide
Standard guard size is 1000mm high, 500mm wide with returns on both sides being 200mm deep. Simple self installation using adhesive pads (supplied). Also available in other sizes:
Two 500mm wide screens to make 1000mm / 1m width
One 500mm screen and one 600mm screen for 1100mm / 1.1m width
Two 600mm screens for 1200mm / 1.2m width
More details below.