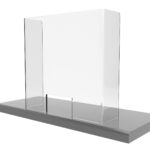 Quick View
Our popular sneeze guard screens are made in clear unbreakable acrylic, and have a class 1 fire rating. A range of sizes is available. Simple self installation using adhesive pads (supplied).
Select size option below.
Standard size guards can be stacked side by side for wider countertops: Example configurations:
Two 500mm wide screens to make 1000mm / 1m width
One 500mm screen and one 600mm screen for 1100mm / 1.1m width
Two 600mm screens for 1200mm / 1.2m width
See description below for more details.