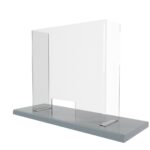 Quick View
Our popular sneeze guard screens are made in clear unbreakable acrylic, and have a class 1 fire rating. A range of sizes is available. Simple self installation using adhesive pads which are supplied in addition to screw holes should you require permanent fixing.
Select size option below.
Standard size guards can be stacked side by side for wider countertops: Example configurations:
Two 500mm wide screens to make 1000mm / 1m width
One 500mm screen & one 600mm screen for 1100mm / 1.1m width
Two 600mm screens for 1200mm / 1.2m width
See the description below for more details.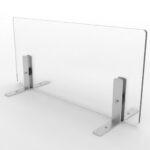 Quick View
Text inside the alertclose
This T-Shaped foot with rubber desk protector will sit neatly on your desk, table or counter. It is robust and will sit on any flat surface! Secured with the weighted base and optional holes for direct fixing if required. Easily assembled, the panel just drops in and is screwed in tightly, and that's it.
All screens come with stands as illustrated.
Standard guard size is 1000mm high, with widths from 600mm to 1800mm. We are also able to manufacture this range to your specific sizes and with cut outs to suit, please enquire for prices.
Please enquire for pricing for products to suit your specific requirement
More details below.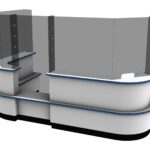 Quick View