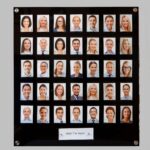 Quick View
British made very high-quality multiple image acrylic staff photo display board with an optional security screen. Available in various colours. Standard sizes now from 12 pockets all the way up to 200 pockets! Ideal for schools, vocational organisations & company reception areas.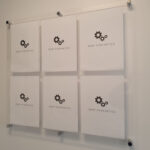 Quick View
Display your public or employee notices, certificates, health and safety notices, professional body memberships, employer awards in a stunningly modern professional manner. Wall-mounted notice board with simple slide-in A4 paperwork pockets. Both modern and stylish. Supplied with standoff chrome fixings. A4 pockets adhered to the back panel producing a neat and tidy display. Standard products have A4 portrait orientation. Landscape  + portrait combinations or landscape only can be made to order, to find out more
please enquire.
See the description box below to see the orientation of the sizes.